Happy Birthday February Girlfriend!
You know the girlfriend – the one who makes you laugh and is there for you when you cry. The friend who always remembers YOUR birthday and makes you feel special. The wonderful woman who doesn't see your wrinkles (in clothes or skin) and always smiles when she sees you. Her hugs even warm up Winter!
Here are a few ideas for celebrating your February birthday girlfriends:

Luxury Foam Blending Spa Set
– Winter is a tough time for our skin and sometimes even sanity! Treat your BFF to a calming spa treatment. She'll be whisked away to a secluded spa …
More February Girlfriend Gifts …
… with our luxurious ensemble of bath foam and signature scents. With the included foam, essential oils, mother-of-pearl spoon, and ceramic saucer, it is both easy and fun to create aromatic foams tailored towards the user's unique sensory preferences. The steam and heat of the shower or bath will open up the fragrances and provide a scented sauna-like experience. Best of all, the bath foam is enriched with extracts of organic Aloe Vera, Honey, and Chamomile to leave the skin feeling soft and supple.
Karma Bracelet – This handcrafted and beautiful Karma Bracelet is sure to bring a good dose of karma into your girlfriend's life! The seamless, half inch Karmic circle is fashioned to a 7″ double strand chain and secured by a lobster clasp. Simple and elegant, this gold-dipped bracelet is a beautiful reminder to keep the circle of life positive, peaceful and loving. The bracelet comes with a decorative message card and is gift-wrapped in a sparkling gold foil box. Card says: What goes around, comes around. Wear your bracelet as a reminder to keep the circle positive, peaceful and loving.
Mammoth Crocs(tm) – My girlfriend Becky LOVES her fuzzy-lined Crocs! She swears by how warm they are and how comfortable they are. I have a pair of Mary Jane Crocs which I love too. So, maybe your girlfriend would love a pair of Crocs too. The Mammoth clog takes seasonality out of the picture and allows you to wear your favorite everyday shoe as often as you like. It's fully lined with snuggly fleece that'll hug every curve of your foot as you walk. Now that's pure satisfaction! Mammoth Crocs for Adults (Size M4-11, W6-12): The Mammoth is Croc's answer to blustery winter weather, lined with a super soft synthetic fur lining, a higher heel and faux vented sides to protect feet from the cold. A roomy fit allows your feet to expand and bend naturally to reduce fatigue and the Mammoth is made with patented crosliteâ material to help absorb shock so you can stomp through winter storms in comfort!
Pearl Bracelet – I love wearing jewelry that a girlfriend gave me. It makes me think about her all day when wearing it and smile when I think about our friendship. You can give this warm feeling to your girlfriend with this beautiful gift. Pearls are making a big statement this season, and classic white strands are no longer the only choice. For a fresh look, try the gorgeous pastel hues of this mixed pearl and gemstone bracelet. Clusters of freshwater pearls in shades of white, peach, and mauve, are perfectly complemented by teardrop-shaped beads of golden citrine, light purple amethyst, and spring green peridot. The mix of colors and shapes lends this bracelet a beautiful texture. The bracelet measures 7 1/2 inches and fastens with a decorative gold clasp.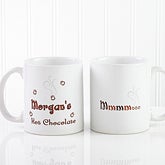 Ghiradelli® Personalized Hot Chocolate Mug Set
– Does she love a good cup of hot chocolate to take away the winter chill? Give her a personalized mug along with some Ghiradelli Hot Chocolate to warm her winter and tell her how much you appreciate her! (And possibly a book from below to read while she shipping her favorite cup of 'paradise'!)
Great Girlfriend Books: Winter is a great time to curl up with a good book (and the hot chocolate above!). Give your girlfriend a great read like … Eat Pray Love by Elizabeth Gilbert (who's touring the country right now speaking with women – maybe get tickets for you and a friend to attend!) The Reader by Bernhard Schlink – the Academy Awards are Feb. 22nd and this book/movie is capturing lots of attention and awards. (Note – make sure the subject matter is appropriate for your girlfriend. Some may be bothered by the situation and sexuality but my girlfriends who have read this book HIGHLY recommend it!) Oprah's current Book Club Book: The Story of Edgar Sawtelle by David Wroblewski – which sounds like an amazing book about a boy facing incredible challenges with the help of his dogs. And, of course, for just good girlfriend stories anything by our fav' author Kris Radish!
A True Friend Bracelet – Give an everlasting reminder of your appreciation for the special friendship you share. The sensational sterling silver cuff bracelet is imprinted with the words "A True Friend Should be Held with Both Hands", a timeless quote based upon an African proverb. Carved hands on each end of the bracelet embrace the wrist as a sculptural symbol of the enduring friendship.

The Safest Heated Throw – Is your girlfriend always cold in the winter? (or even Spring and Fall?) Well, this will warm her up – like your friendship! Unlike typical heated throws that require 120 volts, this is the only UL-listed non hazardous low voltage throw available that uses only 16 volts. Despite its low energy consumption, the throw provides even heat across its entire surface without the hot or cold spots common in lesser models. The tethered remote automatically shuts off the throw after 10 hours, while a microchip embedded in the blanket detects overheating and automatically decreases the temperature, ensuring optimal safety.
'Make Dinners Easy' Crockpot – Who doesn't love coming home to the smell of a yummy dinner cooking? If your girlfriend is a busy person, she's got to have a good crockpot! This versatile family-size slow cooker has three heat settings, a removable 4-quart oval stoneware crock doubles as serving dish and a glass lid designed with stainless-steel rim and cool-touch knob. It is dishwasher-safe and recipes are included.
ARCONA Exclusive Winter Remedy Kit
– Winter is tough – especially for our skin. Show her how much you care by sharing this Winter Remedy Kit.
Related articles: January girlfriend gifts, Valentine's gifts for girlfriends, personalized girlfriend gifts and Girlfriend Gift Directory.
Girlfriendology, the online community for women based on girlfriend inspiration, appreciation and celebration