There's something about women and our conversations. With the right girlfriend(s), any topic is up for discussion – especially if it is something that you don't necessarily talk to others about – like Hot Flashes! We need our girlfriends to help us figure out life and especially things that are so important, like our bodies.
At some point, all of us have, are or will go through menopause. It's a topic that we often avoid – until it's too late and we're wondering what the heck just happened to me?! As girlfriends, we're here to share our insights and information we learn on this natural phase of life.
I always love being in the company of women. It's all about good conversation and great wine. Naomi Watts
Let's just say the words (out loud, my friends 🙂 Menopause, Hot Flashes, Life!
Most women go through menopause between 40-55. (Sometimes younger, especially if she has a hysterectomy.) It's a natural part of life, but it can turn life upside down! As a public service educational announcement, here's how Wikipedia describes it:
"Before menopause, a woman's periods typically become irregular, which means that periods may be longer or shorter in duration, or be lighter or heavier in terms of the amount of flow. During this time, women often experience hot flashes; these typically last from 30 seconds to ten minutes, and may be associated with shivering, sweating and reddening of the skin. Hot flashes often stop occurring after a year or two. Other symptoms may include vaginal dryness, trouble sleeping, and mood changes The severity of symptoms varies between women."
Let's bring the topic out for a real girlfriend conversation!
As Stevie Nicks said: "Rock and menopause don't mix. It is not good, it sucks and every day I fight it to the death, or at the very least, not let it take me over."
It does suck, to be completely honest. No woman ever came through menopause and experienced Hot Flashes to say, "that was fun." It isn't.
Sleepless nights, shivering, complete distraction while your body goes into 'your own tropical *vacation*' … hot flashes are not for the weak at heart.
My hot flashes began over a year ago. If you haven't experienced them (yet!), it's a wild sensation of your body generating an amazing amount of heat from the very core of your body. It's a forceful interruption into your day, night, life. All of a sudden, you want to throw off your clothes – then the next minute you're shivering and can't put on layers fast enough!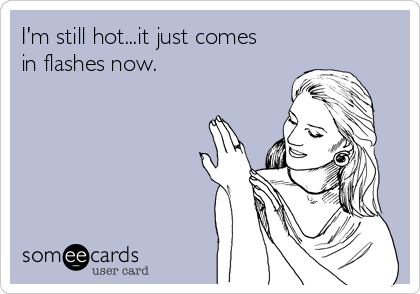 This is part one of three where we're going to explore this phase of our lives … where we're going to get real, be honest, be girlfriends who share what is going on as only girlfriends can do. We're going to talk about menopause and hot flashes. We're going to, as we do on Girlfriendology, share women's wisdom and hopefully we can be there for each other at this phase of womanhood.
If Oprah sold a pill that made women healthier, happier, less stressed, live longer and feel more beautiful (all the benefits of female friendship), we'd all buy it, right?
If there was a pill that could help ease Hot Flashes, we'd want to share it with our girlfriends, again – right?!
Recently I found out about a pill that may relieve women of hot flashes and other menopausal symptoms like mood swings, night sweats, irritability, lack of control and/or sense of well-being. It works without the use of artificial or synthetic estrogen, progesterone, testosterone, or other steroid hormones. In fact, it contains natural elements like Black Cohosh Root and Soy Isoflavones. Taking it once a day may provide relief for a variety of menopausal symptoms to help restore normal hormonal balance without the use of artificial or synthetic estrogen, progesterone, testosterone, or other steroid hormones. It's a natural supplement called AVLIMIL. And, BONUS, it's from Vianda – a FEMALE-owned, respected company that produces a variety of natural supplements for over 15 years and in the USA! (And, if that wasn't awesome enough, it's Doctor-formulated vegan and gluten-free!)
I'm taking it now – and will report my findings throughout this series on Hot Flashes. Check out Avlimil and let me know what you think. Share your questions and comments.
What's your girlfriend advice on Hot Flashes and Menopause? Please share in the comments below!
[Tweet "It's getting REAL on Girlfriendology. We're talking HOT FLASHES!"]
This post was sponsored by Avlimil. The opinions expressed are my own. And, as always on Girlfriendology, we only share what we would honestly recommend to a girlfriend!